OLEH'S CATSKILL GUIDE SERVICE

GUIDED TRAIL HIKES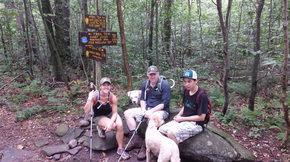 Capture the beauty of the Northern Catskills up-close and in-person on one of our scenic hikes. We offer half-day hikes last about four hours. All hikes and snowshoeing trips are customized to your level and abilities. Hikes are a minimum of two guest up to a maximum of 8 guests. At times a single hiker can be added along with another group, but this would require prior notification. Oh, and yes we do rest. Our goal is for you to have a safe and memorable experience in the Catskill Mountains.

We include and provide any day passes required for our hikes. You are asked to bring water, sturdy, comfortable hiking shoes or boots and proper attire for the season and hiking difficulty.

Half-Day Rates Group Hikes $60 per person


Half-Day hikes include a light snack of trail mix or other on-the-go munchies.

GUIDED SNOWSHOEING HIKES

Winter season is no time to be sitting around. When mother nature blankets the ground
with snow, it's time to get out the snowshoes and hit the trails.

Half-Day Snowshoeing $70 per person


Half-day snowshoeing includes a light snack of trail mix or other on-the-go munchies.

Snowshoes will be provided for for your guided hike. Please remember that snowshoeing
is a high energy activity so please dress accordingly. Light clothing (layers) is the norm along with
a light windbreaker. Try and leave your cotton clothing behind for it doesn't wick perspiration
very well.

Severe weather conditions may limit or cancel a trip. Safety is our top priority.


---